We are here to help
you heal your marriage
Gottman Therapy & EFT for Married Couples
Online Couples Therapy in Utah
Growing Old – but not Happy
Jill* and Gary* raised their kids, worked hard in their careers, served in their community, and built a beautiful home together.
Despite all these accomplishments, their ability to resolve their differences worsened over the years.
Jill had an affair that had happened decades prior but left Gary feeling resentful, jealous, and untrusting over the years.
Through a year of therapy, this couple learned and practiced valuable communication skills and found the healing that would last through growing old together.
Family and Community Stress
While Becky* dedicated most of her time to the kids, Dan* was working hard at his job to provide for their family's needs.
Both Becky and Dan were also very dedicated volunteer leaders in their church, serving many hours a week in their community.
Unfortunately, when they had natural differences in opinion – feelings would get hurt on both sides. Small disagreements often became drawn out and unproductive arguments.
Becky and Dan were committed to one another but felt like their friendship was weakening.
Through working with me, they were able to practice and learn how to talk to one another in a way that turned disagreements into a productive process.
The skills and tools they learned through six months of therapy helped them renew their friendship and work as a team again. They got more sleep and felt like better parents. Overall, they became a shining example for their kids and community.
Addiction and Long-Term Damage
Finn* had struggled through binge cycles with alcohol for years.
Sarah* felt the time had come to separate. For the sake of the kids and her own mental health, it would be better to just move on.
But she wanted to try one more time to keep the family together.
Finn knew this would be the last chance before Sarah would really take the kids away and divorce him.
After a year of therapy, Finn was able to abstain from alcohol and rebuild trust with his wife. Sarah felt supported through the entire process and confident that she could protect herself and her kids.
Finn found deep fulfillment in really living the legacy of a good father and husband.
Your Story Might Be Different…
…but your situation may benefit from taking time to focus on what each of you want out of your relationship.
Every couple that comes to me receives a thorough assessment that uncovers their strengths and vulnerabilities.
I focus on reinforcing parts of relationships that are healthy while educating couples on how to heal or grow in areas that have become damaged.
Divorce or Re-Engaging – It's Your Choice
Our focus can be to save your relationship or amicably separate from your partner. I rarely work to help you flounder and fickle back and forth on your commitment to your partner.
My approach to therapy also is effective with open relationships and non-monogamous couples if the primary relationship holds supremacy over peripheral hook-ups or other romantic interests.
I do not provide couples therapy to more than two people at a time. If you are in a polyamorous relationship, then we would consider providing group therapy to you.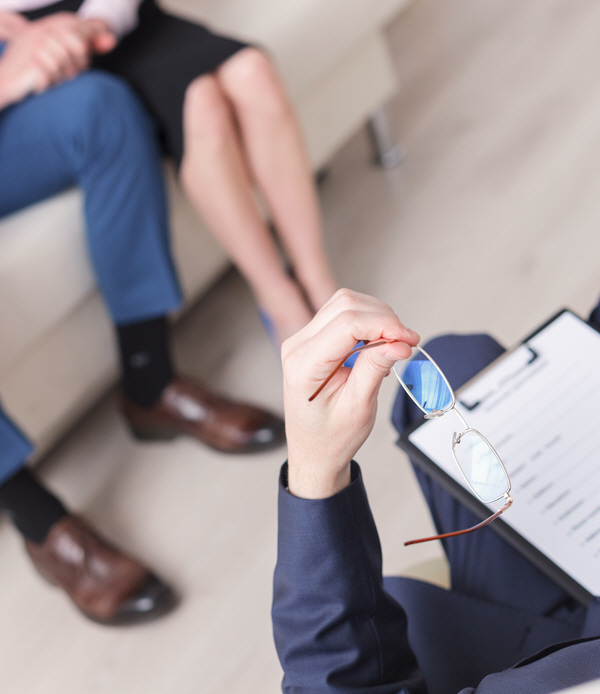 Start healing your marriage
by calling today.
My mission is to help couples sort through staying together or separating peacefully. I provide Gottman Method Couples Therapy to my clients to help them obtain their unique relationship goals.
Many people are afraid that marriage therapy will end in divorce. I promise you that I don't push any agenda that will endanger your relationship.
In fact, if there are serious problems in your marriage and you don't get help, then divorce is more likely. I can't tell you how many people tell me that they would have loved my help two years prior to meeting me.
Let me help you learn how to speak in a way that your partner can hear you. If you are hurting in your marriage, then I can help you articulate your feelings, so things don't spiral out of control.
If your arguments seem circular or unproductive, then I can help you break the patterns that hold you in that revolving door of talking past each other.
My philosophy is to help both partners get what they want and need in life. Don't be that person that I meet in two years that wishes they had known me sooner. Let's get your marriage back on track.
"Successful long-term relationships are created through
small words, small gestures, and small acts."
Transform arguments into opportunities.
Learn the communication skills you need.
Schedule a free 15- to 30-minute consultation.